Biosolids/Biomass Silo System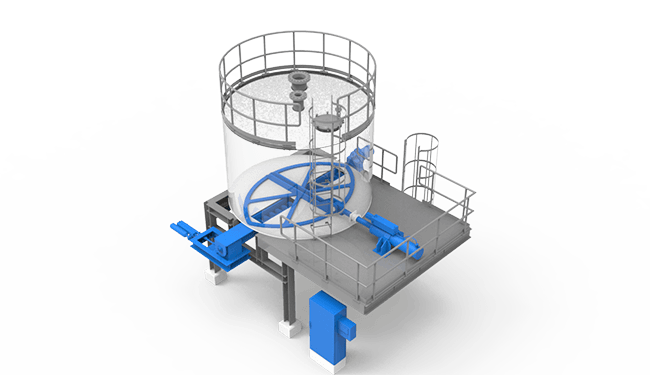 SDMC's Sliding Frame Silo System for biosolids and biomass can be utilized as a receiving station (smaller volumes), intermedia storage, and for final storage (large volumes) for industries including environmental protection, mining, chemical production, and renewable energy initiatives. SDMC's patented Sliding Frame Silo System with EHA (Electro Hydraulic Actuator) is most commonly provided, but a standard sliding frame silo without EHA is also available. System setups are manufactured in round silo or square hopper configurations. The SDMC Sliding Frame Silo System can handle dewatered sludge (up to 30%), dried sludge (up to 50%), wood chips, residual fermentation, gypsum, and other paste materials.
These systems include: Body and Support Structure, Sliding Frame (driven by EHA), Knife Gate (driven by EHA with accumulator), Discharge Screw Conveyor, PLC Control Panel, Level Measurement (ultrasonic or radar), Optional Weighting (through an advanced capacitive loading cell).