Revolutionizing Automation: SDMC's EHA Tech Sets Standards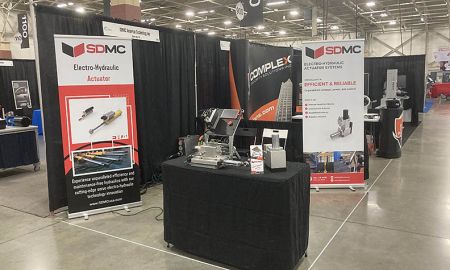 As manufacturing landscapes evolve, the Wisconsin Manufacturing & Technology Trade Show emerges as a beacon, highlighting trailblazers like SDMC. Here, amidst a congregation of innovation, SDMC's Electro-Hydraulic Actuator (EHA) technology stood out, signaling a new era in hydraulic systems and sustainability.
Progression in Robotics, Automation, and Sustainability
The adoption of robotics across sectors is not just a trend; it's a revolution. At the trade show, this shift was palpable, with sustainability and efficiency being the driving forces. SDMC's EHA technology, known for its high power density and compactness, is at the vanguard, propelling industries towards a reduced carbon footprint and optimized labor efficiency.
SDMC's Spotlight: EHA Technology in Focus
What makes SDMC's EHA the talk of the town? It's the fusion of robustness with precision. Designed for versatility, the EHA technology shines across applications—from biomass engineering to the intricacies of wastewater treatment facilities. At the trade show, its live demonstration attracted visionaries and pragmatists alike, all recognizing the potential for customized, sustainable solutions.
Demystifying the Tech: Electro-Hydraulic Cylinders Explained
'EHA' might sound technical, but its implications are profoundly practical. These systems offer precise control, essential for the rigorous demands of silo systems and wastewater treatment services. SDMC's ability to tailor this technology to both millimeter and sub-micron precision levels is not just innovative—it's transformative.
Trade Show Connections and Insight
Conversations at the trade show weren't just about the technology; they were about potential. From a robotics company eyeing the EHA tech for their systems to discussions with green energy enthusiasts, SDMC's booth became a hub of possibility—a place where the future of automation was not just imagined but planned.
Conclusion: Embracing the Future with SDMC
The takeaway from the Wisconsin Manufacturing & Technology Trade Show is clear: innovation is not just about having a groundbreaking product; it's about how you connect that product with the needs of the industry and the planet. SDMC's EHA technology is more than a piece of engineering; it's a step towards a more sustainable, automated, and efficient future.
For those who witnessed the potential of EHA tech at the trade show and for those who share the vision of a smarter, greener manufacturing world, the invitation stands: contact SDMC for a consultation, and let's explore what our technology can do for you.