SDMC USA's Showcases EHA Technology at WIMTS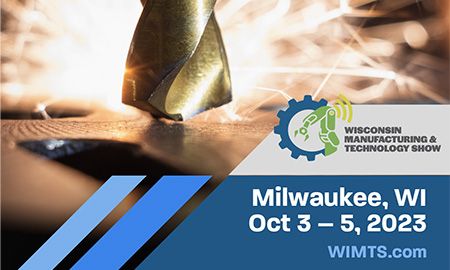 SDMC USA is preparing to make a significant impact at the Wisconsin Manufacturing and Technology Show (WIMTS), the state's foremost manufacturing event. As an esteemed exhibitor, SDMC USA is geared up to showcase cutting-edge solutions tailored for Robotics, Material handling, construction, steel processing, automation, renewable-energy, and distinguished manufacturing leaders. We are eagerly this first week of October event.
Wisconsin Manufacturing and Technology Show:
WIMTS isn't just an event; it's a celebration of vision, innovation, and career opportunities within Wisconsin's thriving manufacturing landscape. This extraordinary platform brings together industry pioneers, professionals, and enthusiasts to explore the latest advancements, exchange insights, and foster invaluable connections. For design firm consultant engineers seeking next-level wastewater management solutions, and esteemed manufacturing leaders striving for excellence, WIMTS is the ultimate destination to fuel inspiration and ignite progress.
Where Do You Find SDMC? Booth 0841!
Imagine a Material Handling or a AGV system revolutionized by new compact electro-hydraulic technology. Picture the efficiency gains and sustainable solutions that await. At SDMC USA's booth, get ready to experience the future of new electro-hydraulic actuator and systems. One shining example is a pilot cutting-edge symmetric cylinder electro hydraulic actuator. Dive deep into its capabilities as we unveil how it can reshape the manufacture landscape. Explore its potential to address challenges faced by heavy duty manufacture and system, enhancing control, precision, and performance. Witness the power of innovation as it propels the industry forward.
Transforming The Future of High Force and Accurate Control System
Our excitement for WIMTS knows no bounds. This event isn't just a showcase; it's a moment to connect, engage, and collaborate. We're eagerly anticipating the opportunity to interact with fellow visionaries, share insights, and pave the way for transformative partnerships. As we embark on this journey, stay tuned for an upcoming follow-up blog post. We'll be delving into our takeaways, offering insights gleaned, and sharing our vision for the future of Electro-hydraulic actuators and systems offer exceptional suitability for high-force applications and heavy-duty manufacturing, coupled with the advantage of achieving remarkable precision.
Be Apart of Our Growth on LinkedIn
Embarking on a new journey requires taking that first step, and we're thrilled to have you by our side as we pave the way for innovation. As SDMC USA charts its course to make waves at WIMTS, we're not just inviting you to follow us on LinkedIn – we're inviting you to witness our evolution. Together, let's cultivate a community of forward-thinkers and trailblazers, where discussions thrive and ideas flourish. By connecting with us on LinkedIn, you're not only staying informed; you're actively participating in our journey towards growth and excellence.
At SDMC USA, we're embracing the challenge of building our online presence, and we're eager to connect with pioneers such as yourself. We want to spark meaningful conversations, share our insights, and learn from your expertise. Together, we'll ascend to new heights and redefine possibilities in the manufacturing industry!
Join us in shaping the future of wastewater technology and manufacturing innovation, one connection at a time.